HOLISTIC APPROACH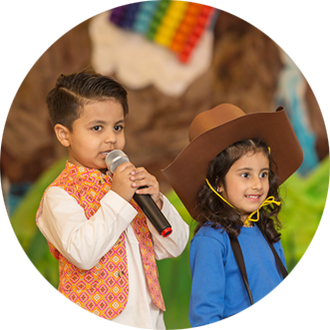 Welcome to our website! We hope that this site not only provides you with useful information, but also acts as a window to what makes 31 FCC a unique school.
We believe that children should be exposed to as many ideas and opportunities as possible and given the freedom to explore and question them. We want our students to form their own opinions and make their own choices. We strongly encourage our students to take part in extra curricular activities and community service projects as well. We aim to provide a learning environment that enables our children to be thinking, socially responsible, well rounded individuals.
At 31 FCC we aim to foster that kind of independence and self-belief. We encourage our young children to learn by doing and to discover things for themselves. We appreciate children's creativity and are not looking for a perfect product. We look at the process of learning and making connections; this is what we feel has real value.
INTERACTIVE COMMUNITY
Children have already learnt a great deal by the time they are three years old. They come to us with a wide range of experiences, interests and skills. They deepen their understanding by playing, observing, planning, talking, questioning, experimenting, testing, repeating, reflecting and responding to each other and the adults around them.
Educators have recognized that their students learn differently, respond uniquely to a variety of teaching techniques and have their individual preferences. It is our job to provide learning experiences of the highest quality to help children make progress and enjoy the challenges and opportunities they are provided with. The unique qualities of each student must be recognized, encouraged and cultivated. The process should be fun, stimulating and enriching. This is what we strive to do at Lahore Grammar School, 31 FCC.
As part of their Global Perspectives classes, our young learners are on a mission to design a project to improve the environment for wildlife! Watch them work collaboratively to research local wildlife in the video below.