HOLISTIC APPROACH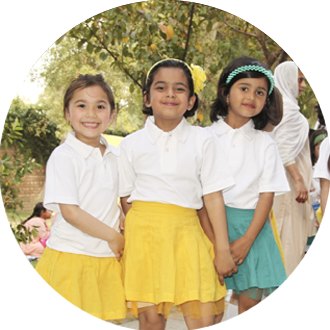 Welcome to our website! We hope that this site not only provides you with useful information, but also acts as a window to what makes 31 FCC a unique school.
We believe that children should be exposed to as many ideas and opportunities as possible and given the freedom to explore and question them. We want our students to form their own opinions and make their own choices. We strongly encourage our students to take part in extra curricular activities and community service projects as well. We aim to provide a learning environment that enables our children to be thinking, socially responsible, well rounded individuals.
At 31 FCC we aim to foster that kind of independence and self-belief. We encourage our young children to learn by doing and to discover things for themselves. We appreciate children's creativity and are not looking for a perfect product. We look at the process of learning and making connections; this is what we feel has real value.
INTERACTIVE COMMUNITY
Children have already learnt a great deal by the time they are three years old. They come to us with a wide range of experiences, interests and skills. They deepen their understanding by playing, observing, planning, talking, questioning, experimenting, testing, repeating, reflecting and responding to each other and the adults around them.
Educators have recognized that their students learn differently, respond uniquely to a variety of teaching techniques and have their individual preferences. It is our job to provide learning experiences of the highest quality to help children make progress and enjoy the challenges and opportunities they are provided with. The unique qualities of each student must be recognized, encouraged and cultivated. The process should be fun, stimulating and enriching. This is what we strive to do at Lahore Grammar School, 31 FCC.
As part of their Global Perspectives classes, our young learners are on a mission to design a project to improve the environment for wildlife! Watch them work collaboratively to research local wildlife in the video below.

CAMPUS LIFE
Exploratorium:
Based on the concept of discovery learning, this is one of the favorite rooms in the school. Here children get a chance to carry on hands-on activities and do experiments and make collective projects related to social science themes.
Multimedia:
The Multimedia facility is used to show documentaries and video clips of topics related to their work. Children find these fascinating and we feel this is an enriching experience, away from the typical cartoon and animated movies that most children are exposed to.
CURRICULUM
We believe in continuous, on-going evaluation. The Student's class work, regularity of homework, project work and class participation are all taken into account when working out her grade.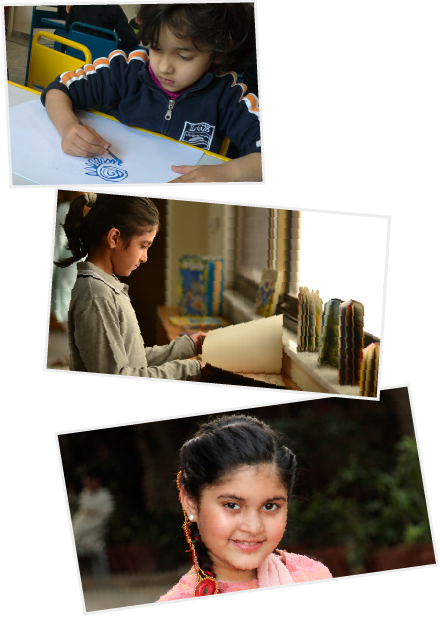 Literacy and Language:
Our literacy and language program responds to the varied literacy needs of our students. We work in small groups and use multisensory ABC and phonics immersion strategies. We aim to expand literacy and communication skills and connect reading and writing across the curriculum. Our curriculum is emotionally engaging, systematic and differentiated for our students' needs. We involve parents as partners because we know that nothing fosters love for and success at reading more than a community-based approach.
Sciences:
In Science, students are taught to observe, record, analyze, hypothesize, research and apply the knowledge that has been gained through this process.
Social Sciences:
In Social Studies, an emphasis is placed on differing perspectives to gain an understanding of cultural and geographical factors affecting our daily lives.
Languages:
English and Urdu are taught through activities and by encouraging reading and usage.
Mathematics:
The understanding of concepts and their application is emphasized and credit is given for the method chosen as well as the skills involved. Students are gradually weaned from concrete pictures and symbols, leading to more abstract concepts. Experiential learning methods are applied to enhance understanding of concepts.
Art:
The Art Curriculum at 31 FCC lays the foundation for the culture of student- led innovation which continues throughout their journey at LGS.
Global Perspectives :
This year, we have introduced Primary Global Perspectives in Prep and Class One. This programme seeks to equip students with twenty-first century skills by departing from traditional models of education, in which the learner is a passive recipient of knowledge, and instead places the student at the heart of the educational process, as an active participant in their own learning and development. By studying global issues, learners explore different and often opposing perspectives to develop critical thinking, research and communication skills. Topics include Looking after Planet Earth, People Young and Old, Keeping Healthy, Water, Food and Farming, Families, Improving Communication and the World of Work.
ADMISSIONS
Could 31 FCC be right for you? We seek to admit optimistic, energetic, and engaged students who are ready to take advantage of the world of endless opportunities and challenges we provide to our students. 31 FCC offers a flexible curriculum enriched by a wide variety of activities.
NOVEMBER

REGISTRATION FOR NEW SESSION
Notice Board
Important Notices will be uploaded here whenever possible. However, please make sure that your current cell number has been entered in the School database as our primary means of communication with parents and students is via SMS.
Due to the change in timings,Orientation for Nursery C,D and E will now begin at 10.20 am on Tuesday,12th September'2017


Summer Holiday Homework 2017


31 FCC Summer Timings


31 FCC Uniform


Important Notices will be uploaded here