Science and Technology
Science Society
The Science Society here at LGS 55 Main encourages enthusiasm for Science through enquiry and experimentation. We enable students of all abilities to enjoy and understand different scientific concepts and take part in a diverse range of competitions and projects. From holding yearly science fairs to sending students to India for space camps such as Astrotrek, we try to develop passion for science amongst students at a very early age. We facilitate participation in well renowned International competitions such as the Google Science Fair, Intel and various Interschool competitions such as PSIFI. One of the most integral features of the extracurricular program at 55 Main is the Asian Regional Space Settlement Design Competition held by NASA which we have won a record of four times! Here's what some of our students have to say about their NASA experience:
"Nobody could have prepared us for all the amazing things we were going to experience. The competition itself was what we expected – tough, gruesome, fast paced but at the same time, enjoyable. Apart from that, the people we met, the places we saw, the laughter we shared all made a lasting impression on us. We came back from that border as a stronger team and as better people. All of us would admit, in a heartbeat, that we would want to experience it all over again." – Hooran Mumtaz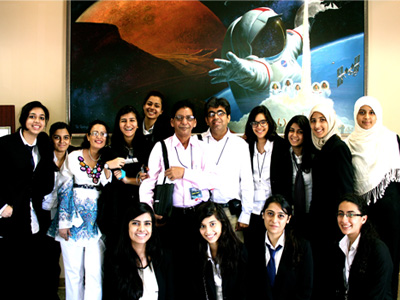 This competition was not limited to teaching teenagers about space. It brought cultures together. Stereotypes were broken down. We saw for ourselves what the Indians and Chinese are like. I can never forget the day we met the other team members. We were 43 teenagers from different backgrounds working on the same team. It was the experience of a lifetime" – Marryam Ishaq.

"There's something about these girls that all of us don't understand. Every year they surprise us all. You girls are special." – Jim Christensen, Vice President of Education Programs at Atlantis Educational Services, Inc. (NASA)

Interested in joining the Science Society? Email us Lgs55sciencesociety@gmail.com or visit our faebook page to let us know how we can help!