Excellence is not being the best, it is doing your best.
HOLISTIC APPROACH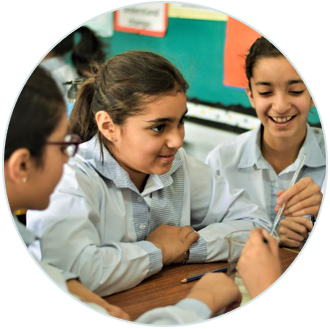 We are thrilled to welcome you to 30 Main, our new purpose built campus for classes 2-5. It houses an auditorium, amphitheater, computer and science labs, many activity rooms and sprawling grounds, all the facilities that make learning exciting for your daughter.
Children first is our philosophy that governs all aspects of planning and teaching, from daily schedules to curriculum to lesson planning and extra-curricular activities. Guided by dedicated and experienced teachers, students thrive in an environment that encourages questioning, provides choices and offers support.
The emotional and social development of our students is of prime importance to us, we are ever mindful of values of compassion, respect and empathy. Wellness classes in second grade will give children guidance through these critical years of growth. After school clubs will offer opportunities to develop leadership, confidence and collaborative skills.
At 30 Main we are proud to be along the journey of our wonderful, young girls. When faculty and families join together with students, we create an exciting environment full of endless possibilities.
INTERACTIVE COMMUNITY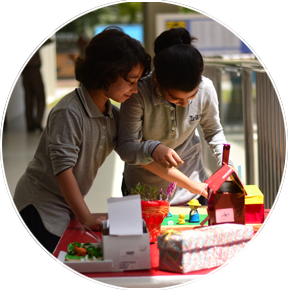 There are no tests in real life, no certificates awarded for helpfulness and no medals for kindness; 30 Main gives much more to its students than simply molding them into future workers or citizens. Every child is considered more than a future employee; her intelligence and abilities are far varied than what is reflected in a school report.
Our students are taught using real-life experiences, current affairs, dramatic arts and other sources of knowledge in place of just text book information. By encouraging reflection and questioning rather than passive memorization of facts, teachers make learning naturally enchanting. They are part of a world that is changing rapidly; a world that will need quick thinking, innovative problem solving and collaborative effort.
Holistic education aims at enabling a person to see herself as part of a universal whole by engaging directly with the environment. The rich culture of Lahore is reflected in our students; proud ownership of our language, dress and cultural heritage are all part of the school environment. Yet students appreciate diversity by celebrating differences that make us unique. Learning about other cultures and places enables students to form knowledgeable and unbiased opinions and develop tolerance and compassion.
Fostering collaboration rather than competition in classrooms, understanding instead of memorization, acceptance in place of prejudice will give children roots and wings to be the dreamers, builders and leaders of a better tomorrow.
Watch the video below to discover what our students had to say on their first day of school.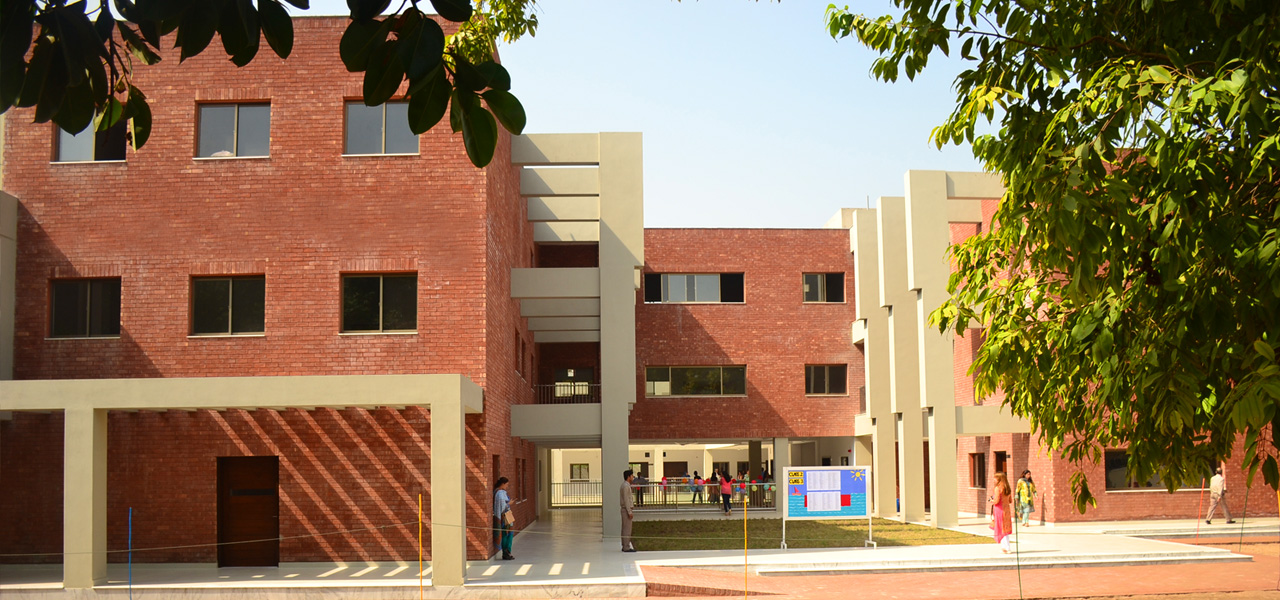 CAMPUS LIFE
Students have a full schedule of academic classes, art, rhythm and movement and games. Academic lessons are planned collaboratively by teachers to emphasize critical thinking, problem solving, refining study skills and work habits. Assessments are geared towards assessing each one of these disciplines. As always, immense emphasis is laid on keeping the academic environment nurturing, non competitive and stress free.
CURRICULUM
We believe in continuous, on-going evaluation. The Student's class work, regularity of homework, project work and class participation are all taken into account when working out her grade.

Mathematics:
The Primary Mathematics curriculum at LGS is dedicated to developing learners who are confident, responsible, reflective, innovative and engaged. It is based on Cambridge, exploring five content areas: Number, Geometry, Measure, Handling data and 'Problem solving', which describe using techniques and skills, and the application of understanding and strategies in solving problems. Mental strategies are also a key part of the 'Number' content. This curriculum focuses on principles, patterns, systems, functions and relationships so that learners can apply their mathematical knowledge in real life situations and develop a holistic understanding of the subject.
Languages:
The languages curriculum for both Urdu and English aims at equipping students with a strong command of spoken and written language skills. Oral and written comprehension, understanding of grammar, knowledge of linguistics and fluency of writing are pivotal parts of language teaching. Students are taught to plan, revise and evaluate their writing for coherence and smooth flow; they are exposed to a wide variety of texts to improve vocabulary and encouraged to participate in discussions and presentations to improve speaking skills. A well balanced reading program provides students with the opportunities to read for the pleasure of discovering interesting information and develop the habit of reading.
Global Perspectives :
The Global Perspectives programme seeks to equip students with twenty-first century skills by departing from traditional models of education, in which the learner is a passive recipient of knowledge, and instead places the student at the heart of the educational process, as an active participant in their own learning and development. By studying global issues, learners explore different and often opposing perspectives to develop critical thinking, research and communication skills. Elementary school topics at 30 Main include How can we stay healthy? How do I communicate with people? The right to learn, Helping people to belong, Being water wise, Using energy, If I were a world leader, and Reduce, Reuse, Recycle amongst others.
ADMISSIONS
Could 30 Main be right for you? We seek to admit optimistic, energetic, and engaged students who are ready to take advantage of the world of endless opportunities and challenges we provide to our students. 30 Main offers a rigorous yet flexible curriculum enriched by a wide variety of interdisciplinary courses and activities.
APRIL'18

21

Early Admission Test

JUNE'18

9

REGULAR Admission Test I

AUGUST'18

11

REGULAR Admission Test II
Notice Board
Important Notices will be uploaded here whenever possible. However, please make sure that your current cell number has been entered in the School database as our primary means of communication with parents and students is via SMS.
Steps to configure Flash on MyiMaths

Dear Parents,
This is to inform you that a certain percentage of MyiMaths and Reading Express will be included in the final grade of English and Math at the end of each term. Kindly ensure that your child completes the assigned tasks regularly.
School office


Upcoming Events


Suggested English Reading List


Suggested English Reading List Grade 5


Suggested Urdu Reading List


Recommended Websites


Important notices will be uploaded here